TRIBUTE TO ESTHER LARDENT
Visionary, Mentor and Friend
Dear Friends and Colleagues,
With scores of others around the world, we mourn the passing of Esther Lardent and celebrate her extraordinary life. Founder of the Pro Bono Institute (PBI) and former Co-Chair of New Perimeter, Esther was known throughout the legal world as the "Queen of Pro Bono" for her tireless and innovative work to promote pro bono. "The legal profession has lost one of its most inspirational leaders. We at DLA Piper were so fortunate to know and work with Esther, and she was a personal friend to many of us at the firm. Her legacy will continue to guide us and our pro bono efforts," said Roger Meltzer, Global Co-Chairman and Co-Chairman Americas at DLA Piper.   
Over the last 20 years, Esther and PBI have been an unwavering force in encouraging the legal profession to uphold its ethical duty to serve the poor, fight for justice and bridge the justice gap. Esther's visionary spirit and drive inspired law firms and corporate legal departments to do pro bono, develop innovative and impactful pro bono projects and to expand society's commitment to access to justice. Esther's leadership has touched countless people in the legal community as well as in the communities of under-served people she encouraged us to assist. At DLA Piper, she inspired us and contributed to our pro bono work and programs across the firm.
Esther was a trusted advisor and great friend to DLA Piper and New Perimeter. Esther was with New Perimeter from its very beginning when it was created in 2005. She served as New Perimeter's Advisory Board Co-Chair, first with Judge Pat Wald and then with Mark Ellis, Executive Director of the International Bar Association, facilitating many of our meetings over the years. Esther's thoughtful feedback and inclusive nature guided our efforts and helped our new venture – a one-of-a-kind pro bono organization – spread pro bono to some of the most under-served regions around the world.
Esther was also a wonderful and loyal friend and a special mentor to our pro bono leaders. We are forever grateful and honored to have known and worked with her. She had an incredibly generous spirit and all of us will sorely miss the twinkle in her eyes, her wise guidance and her enthusiastic encouragement. We will continue to work hard to uphold Esther's legacy and keep her memory and vision close to our hearts.
As PBI noted, "Esther was a shining star in the legal world. Her light and enthusiasm paved the way for all of us who pursue increased access to justice. It is now up to us – all of us – to be those stars in her constellation and carry the torch on the path to justice. Let us carry on Esther's legacy and renew our commitment to help the countless people who need our assistance."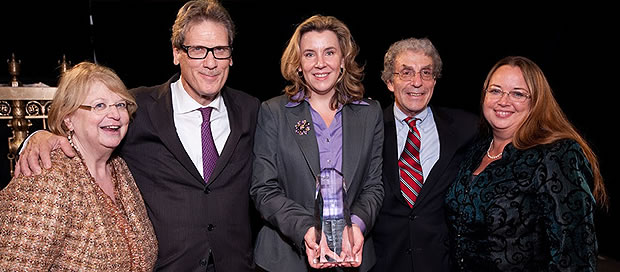 DLA Piper receiving the John H. Pickering award from the Pro Bono Institute L to R: Esther Lardent (Pro Bono Institute), Lee Miller, Lisa Dewey, Sheldon Krantz (DLA Piper), and Tammy Taylor (Pro Bono Institute)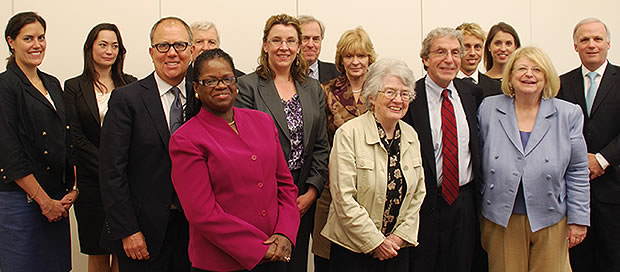 New Perimeter Advisory Board (2011) with former co-chairs, Judge Pat Wald and Esther Lardent, and current co-chair, Mark Ellis

Mark Ellis, Executive Director, International Bar                    Sheldon Krantz, former Director, New Perimeter, Association and co-chair New Perimeter                                Nicolas Patrick (DLA Piper) and Esther Lardent
Advisory Board, and Esther Lardent        


Esther attending and facilitating the DLA Piper International pro bono planning day in London in 2011
Please click on the following link to read the touching tribute from the Board of PBI:
http://www.probonoinst.org/pbi-mourns-the-passing-of-founder-esther-f-lardent/