Supporting the Commercial Lawyer of Tomorrow

Posted on 18 August 2022 by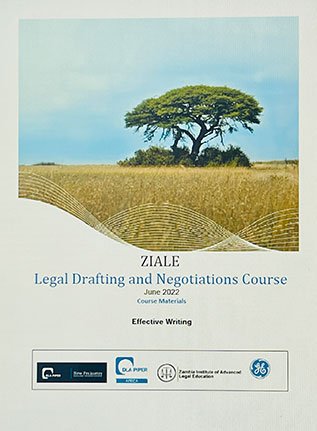 Joseph Joubert, an 18th century French moralist, essayist and philosopher, is quoted as having said, "To teach is to learn twice." These words ring true and heavy with meaning even in today's contemporary world.
Recently, I had the absolute pleasure and honour of "learning twice" while training and engaging with graduate students at the Zambian Institute of Advanced Legal Education ("ZIALE"). The New Perimeter pro bono initiative at ZIALE is run by DLA Piper and GE, which train Zambian graduate law students in collaboration with the DLA Piper Africa firm in Zambia, Chibesakunda & Co. Advocates.
When the opportunity to participate in this year's ZIALE training came up, I knew right away that I had to seize it. I am hardly one to pass up an opportunity to make an impact, and to contribute to inspiring future success stories. I was eager to participate in the program. Despite the excitement, I was apprehensive. Several questions lingered in my mind: "Would I succeed in effectively communicating with the students?", "How would I keep them engaged throughout the sessions?", "Would they get bored and zone out?", "How could I effectively use online training tools?". There was no way to find out than to participate in the training.
Thankfully, our DLA Piper colleagues were quite helpful in providing us with a good perspective on what to expect and how to proceed, especially when engaging the students through Zoom.
I facilitated a day-long session on negotiation alongside a great team from DLA Piper and GE. We provided the students with simulations and case studies and engaged them on the process of negotiating the commercial terms of their cases.
Through the engagement with the students, I soon learnt that they were not the only ones in a negotiation class. As facilitators of the sessions, we were equally in a negotiation class too. We were negotiating our way into an engaged class, negotiating middle grounds and fair engagement for students with very diverse personalities, ensuring each was as engaged in the process as they could possibly be – and did the personalities come out! - and negotiating a successful learning outcome for the students.
It was a great honour participating in the event, and in my small way inspiring and engaging skilled future commercial negotiators. More importantly, I learnt alongside them. I can't wait to learn twice again in next year's New Perimeter Pro Bono Initiative!