GE Lawyer Teaches Students
at the Law School of Tanzania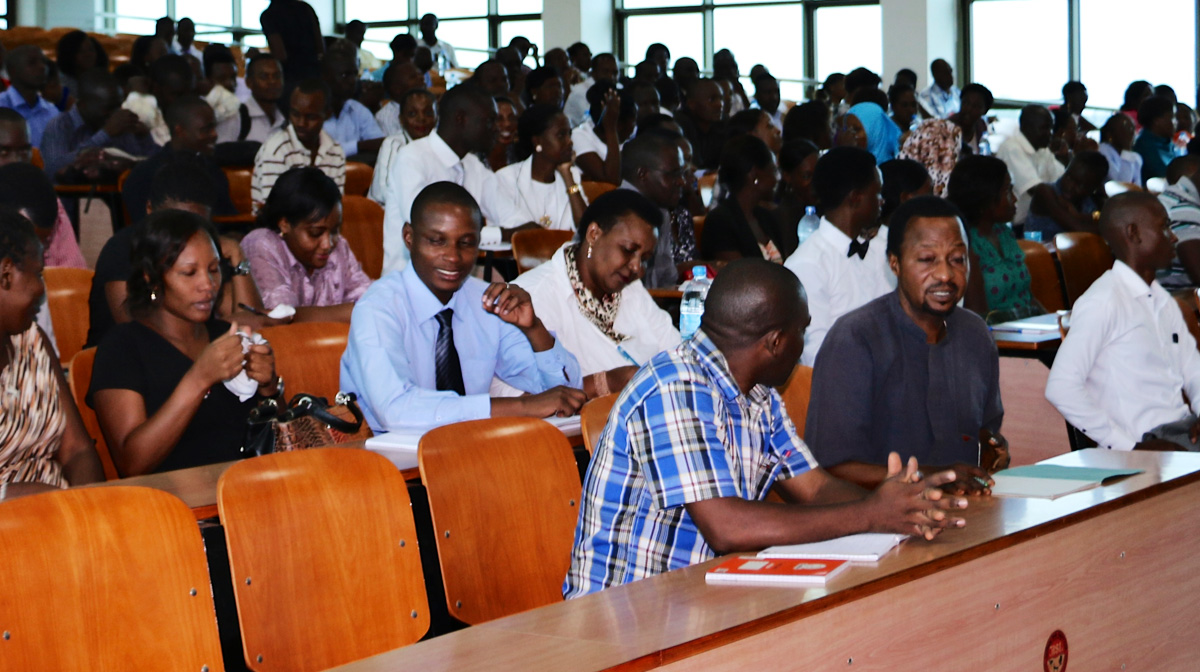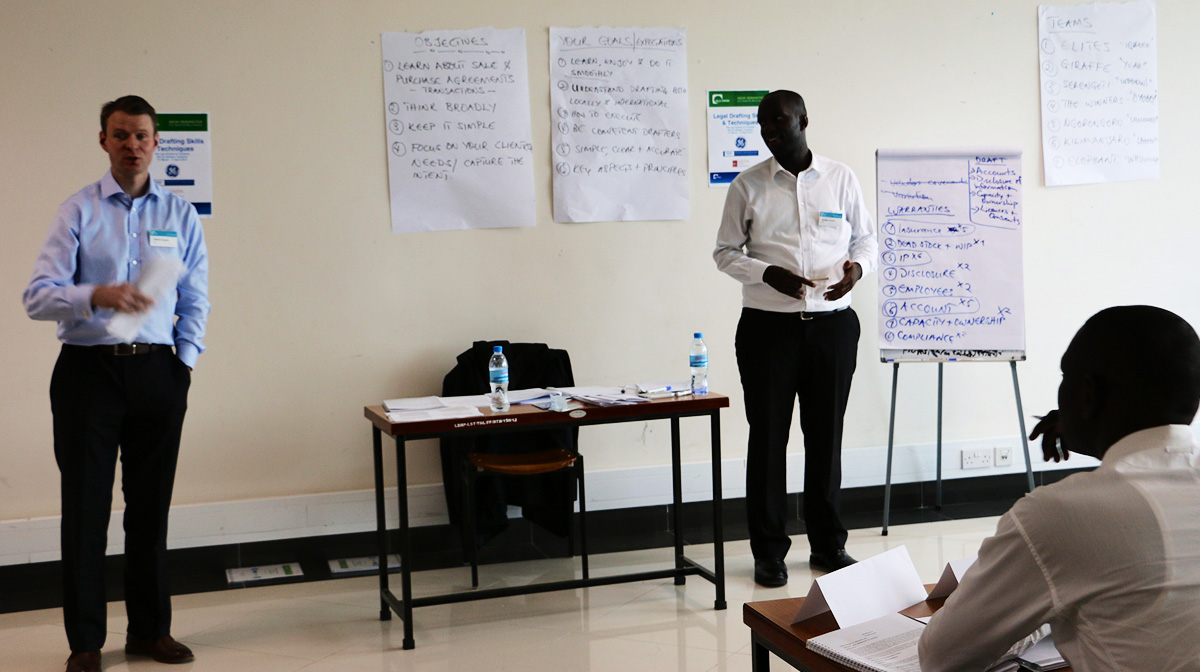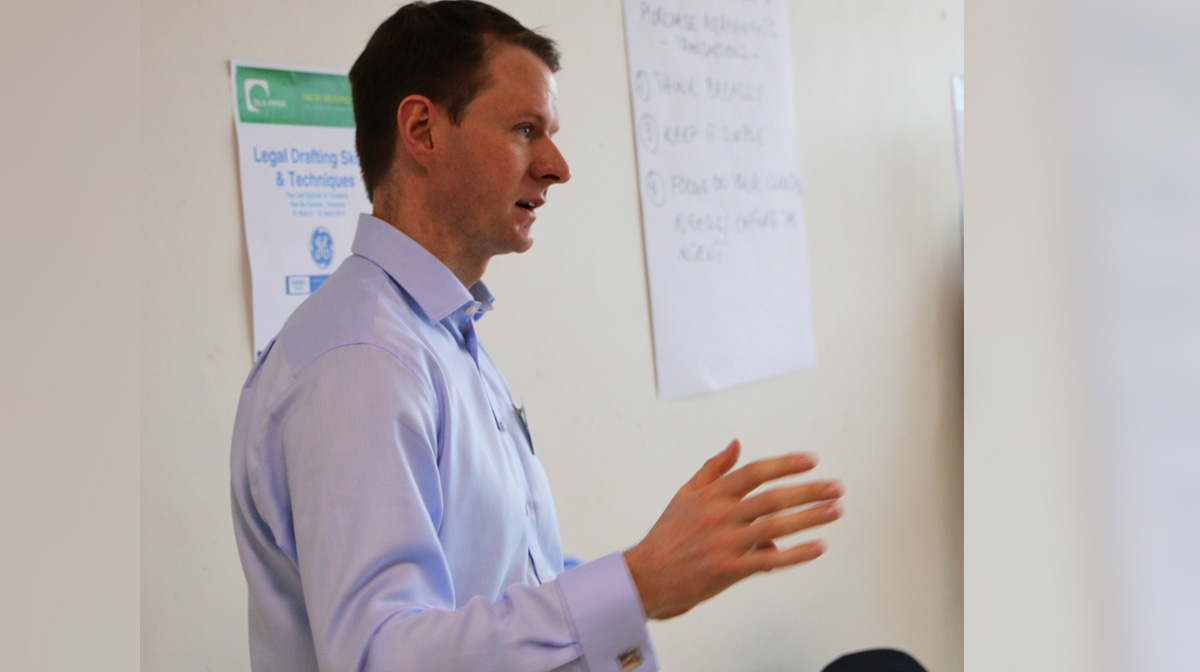 Posted on 3 September 2014 by
Photo above: Patrick Quinn is Associate Counsel with GE Capital Aviation Services. We welcome his guest blog post about his experience.
For the past five years, GE lawyers have partnered with DLA Piper on a pro bono project that sends almost a couple of dozen lawyers to volunteer at the Law School of Tanzania in Dar es Salaam.
This year, GE and DLA Piper lawyers delivered a teaching module on Legal Drafting Skills and Techniques over a two-week period. Patrick Quinn, GE Capital Aviation Services (GECAS) associate counsel based in Shannon, Ireland, represented GECAS this past April, along with lawyers from GE Aviation, Capital, and GE Global Operations (GGO).
DLA Piper began this pro bono project five years ago with the purpose of developing legal expertise in Tanzania. GE has been a partner in the project since its inception. The two-week program works by sending a mix of DLA Piper and GE lawyers each week enabling them to reach a total of about 400 law students. All volunteers pair up to teach a specific topics related to legal drafting skills and techniques. Patrick partnered with Hunter Josiah, GGO commercial counsel based in Nairobi, to teach a lesson plan on Sale and Purchase Agreements. Together, Patrick and Hunter spent nearly 20 hours preparing their lesson before traveling to Tanzania. The team was given an outline for the topic and a set of notes from the previous year, which they then edited and put into a final format for printing, so that each student had a booklet for the class.
Patrick arrived in Dar es Salaam on a Saturday and began teaching on Monday.
"It was an intense week," Patrick said. "You're taken out of your daily bubble and put into a different environment to do something you don't do on a daily basis. We tutored 40 students from 9:00-4:00 each day for five days. On the first day, we were all apprehensive; we wanted to deliver an effective course to each student."
Patrick says that he and Hunter spent the first 30 minutes of each of their classes breaking the ice, as developing engagement right away was critical, followed by an introduction to the topic.
The rest of the day was spent on four practical exercises. Students actively drafted and amended clauses either as individuals or in teams. In some exercises, one team represented a seller and another team represented a buyer, and they were given a set of circumstances around which they argued out their responses.
"They had lots of vibrancy and energy," Patrick said. He feels the practical nature of the lesson and the teamwork involved was beneficial as it mirrored reality in a global office. At the end of the week, although exhausted, Patrick felt a sense of accomplishment and pride. "My goal was to deliver a worthwhile learning experience for the students. The positive feedback and thanks from the students made it for me," he said. "To think I made even a small difference for some of the students was very encouraging."
Patrick concluded, "it was a real privilege to represent lawyers from GE on this pro bono program. I was delighted to be given the opportunity and thoroughly enjoyed the experience."