Supporting the Access to Justice Movement in Colombia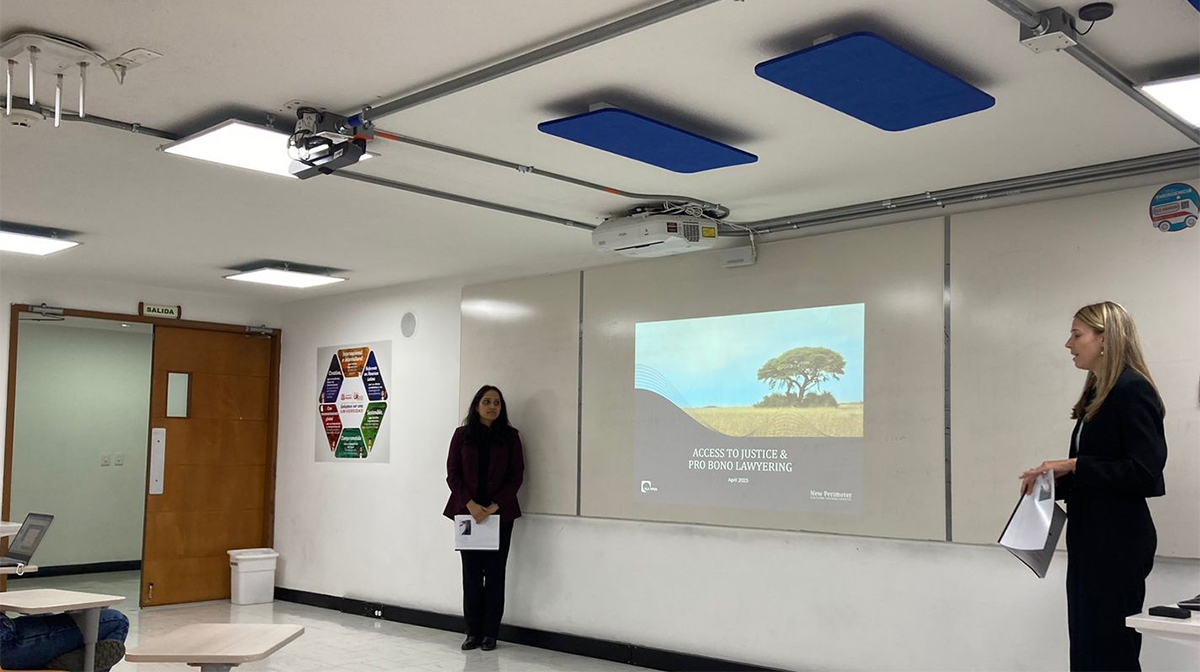 This spring, I had the pleasure of traveling with Pro Bono Counsel Aditi Eleswarapu, to Bogotá to support the work of DLA Piper's pro bono partner, Fundación ProBono Colombia. Fundación ProBono Colombia is a nonprofit organization that facilitates access to justice by bridging the gap between lawyers and vulnerable communities in need of legal services. As a Krantz Fellow dedicating my first year of practice solely to pro bono matters, I found this trip personally enriching to my own understanding of access to justice internationally. It was an honor to meet professionals in the pro bono space in Colombia and experience their passion for addressing the access to justice gap.
One key aspect of Fundación ProBono's work includes educating law students on pro bono opportunities in their future careers. To support this work, Aditi and I led workshops at the Universidad del Rosario to law students regarding access to justice, our own pro bono experiences, how pro bono fits into our careers, and about the work New Perimeter does globally. Our workshops were conducted over the course of two days, and during that time we spoke to over 60 law students enrolled in classes from public interest law to corporate criminal law.
My favorite part of the workshops was watching the students get excited about pro bono work and begin thinking about how their own interests may align with pro bono service opportunities in the future. We received numerous interesting and challenging questions such as how to defend intellectual property rights for small content creators, how to offer pro bono services within corrupt justice systems, and how students can get involved in access to justice projects before graduation. The growing excitement from the students, their enthusiasm, and their creativity was energizing to experience.
Other aspects of our trip included participating in a panel on "Lawyers in Service to Society" and a round-table discussion led by Fundación ProBono Colombia with pro bono coordinators at local law firms. Both discussions focused on how to encourage pro bono services within law firms in Colombia and internationally. We discussed promoting a culture within law firms of pro bono service and celebrating the work lawyers are doing. As a new associate, I spoke of how important it is for new lawyers to experience a positive firm culture toward pro bono work and valuing access to justice matters.
I returned home with a renewed excitement for pro bono work and the importance of promoting access to justice. I hope we were able to energize our colleagues while sparking excitement among law students to become the pro bono leaders of the future. This collaboration was nothing short of incredible to experience, and I am already hoping for another opportunity to return and see how this project will continue to grow.