Supporting Dedication to and Enthusiasm for Pro Bono in Colombia's Future Lawyers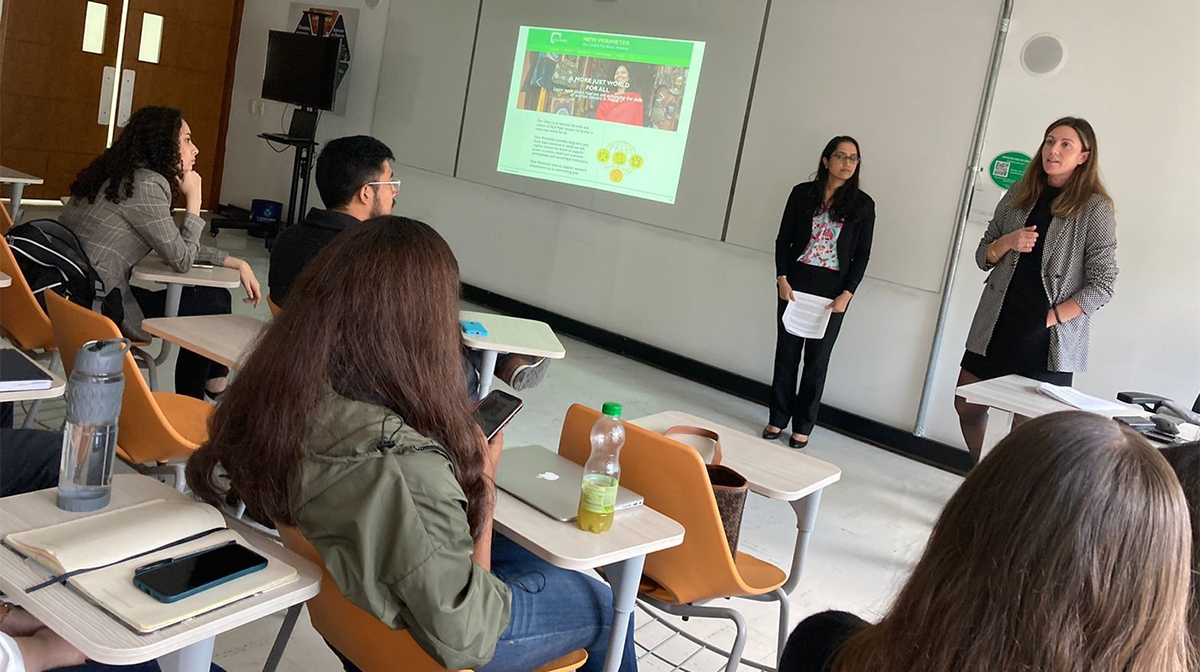 "Access to justice is a basic principle of the rule of law. In the absence of access to justice, people are unable to have their voice heard, exercise their rights, challenge discrimination or hold decision-makers accountable."[i] At its core, the legal profession serves to promote access to justice and to help close the "justice gap." Pro bono lawyering plays an absolutely critical role in the success of that mission.
New Perimeter works with Fundación Pro Bono Colombia to create a sustainable pro bono culture and network within the legal profession in Colombia. Each year, DLA Piper lawyers teach several classes of law students about the impact that pro bono lawyering can have on promoting access to justice and minimizing the justice gap. This year, we were absolutely thrilled to be the first team back in country after COVID's long and devastating impact on foreign travel.
We spent two days at La Universidad del Rosario, a university with a history as rich as the surrounding city. At the university, we taught three classes of law students ranging from criminal law to public international law, and we spoke to the students about our own pro bono experiences and what it means to our careers, as well as the work that New Perimeter does globally to support access to justice. It was such a pleasure to engage with these young law students in person and to witness firsthand the eagerness and excitement they carry towards public interest law, pro bono, and promoting access to justice. We discussed the many types of pro bono and public interest law work that exist; the various ways one can incorporate pro bono into her career; and the limitless ways that one can pursue what one is passionate about through pro bono.
But we also did a lot of listening. We listened to our Fundación Pro Bono colleagues talk about the importance of pro bono in Colombia, given the country's history. We listened to the students speak about their passions for women's rights, environmental issues, and criminal law, to name a few. And we also listened to the students' thoughts on how the justice system could be improved. In summary, we left feeling a sense of excitement for these future Colombian lawyers, who show such integrity, dedication and enthusiasm toward the legal profession. We concluded our trip with a visit to DLA Piper's Bogotá office to participate in a panel with DLA Piper, the University, and Fundación pro bono colleagues (as well as a guest speaker who serves as the head of Colombia's national institute of civil procedure).
This was an incredibly rewarding trip, and we are so honored to have had the opportunity to be a part of this project.