The Students Become the Masters
– An Amazing Week in Dar es Salaam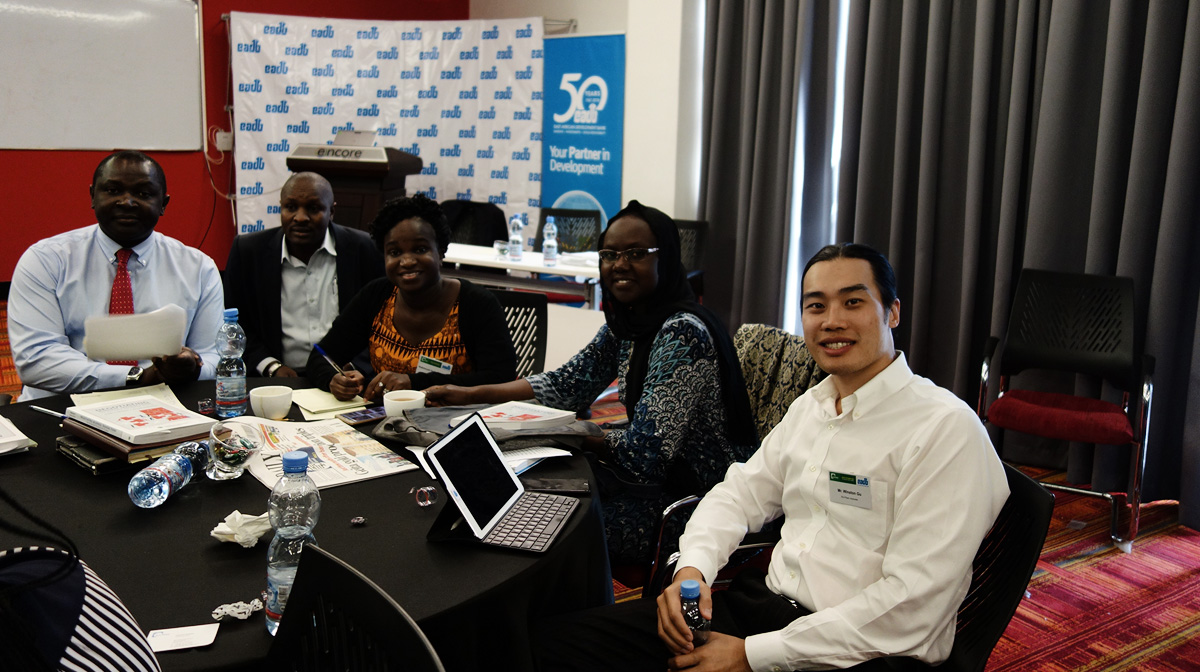 Posted on 21 September 2018 by
Photo above: Winston Gu with East African public sector lawyers
One of the most fulfilling and fun experiences of my legal career to date culminated in a trip through DLA Piper's New Perimeter pro bono initiative to Dar es Salaam, Tanzania. In August 2018, a group of eight DLA Piper attorneys from all over the world, and two IMMMA Advocates (DLA's local law firm partner) attorneys based in Tanzania, taught a week-long training on international business transactions to a group of over forty East African public sector lawyers from Tanzania, Rwanda, Uganda and Kenya. Our program was in partnership with the East African Development Bank (EADB). We focused our teaching on negotiation tactics and drafting of certain contractual provisions, with a focus on oil and gas transactions.
Our training was led by Jay Finkelstein, a partner in DLA Piper's Northern Virginia office, who provided the framework and materials for leading the training through a mixture of lectures on topics ranging from joint venture to license agreements, and an interactive component where students would simulate negotiations between a fictional country and a fictional multi-national corporation looking to enter into a joint venture and supply agreement. The diverse backgrounds of my DLA Piper colleagues, Bruce Jenett (Palo Alto), Laurent Asquin (Paris), Milena Falciano (Leeds), Alexander Fraser (New York), Michael Marelus (New York) and Kevin McGrory (London), and IMMMA Advocates colleagues, Madina Chenge (Dar es Salaam) and Sadock Magai (Dar es Salaam), helped our team to provide the students with a varied perspective of negotiation styles in different areas of the world. Additionally, we were able to highlight the jurisdictional differences in certain contractual provisions depending on the governing law of the agreement – a potentially vital point in contract drafting.
As a former teacher, one of the most fulfilling moments of any teaching experience is watching your students finally "get it." Luckily for our group of instructors and students, this happened very early on with our negotiation groups – it was amazing to see the students realize how different negotiation tactics and strategies influenced what the counterparty was willing to agree to in a transaction. The groups were each led by one of the DLA Piper attorneys who would help the students strategize which tactics to try and to see which were most effective – we helped the students use strategies that they found effective in their own negotiations, as well as teaching them some of the strategies that we found to be useful in the United States and Europe. Although we were the ones who were leading the training, we also learned about how East African public sector lawyers and their governments approach negotiations. At the culmination of our five-day training, every group presented the final terms of the "deal" they had struck with their counterparty, and the results of each group highlighted how different negotiation strategies lead to varied outcomes.
I am so thankful for this experience and the maxim about the "student becoming the master" could not be more true here. I felt like my students could out-negotiate me at the end of our trainings! I am also incredibly grateful for the newly developed relationships with my DLA Piper colleagues and new East African friends. I would also like to thank the New Perimeter team for doing an amazing job in organizing the trip and preparing us for our time in Tanzania.